Embracing your roots is important. That's why we never forget ours.
In 2012, I started a 30-day Paleo challenge; it changed my life. While my sleepless nights and fatigue disappeared, it didn't stop my sweet tooth. I mean, I love a good chocolate-y snack! But when you're practicing paleo, you can't always find something to satisfy your craving. That's why I've taken matters into my own hands to create my very own Paleo, gluten-free, dairy-free snacks with Base Culture.
I use passion, insight, and intuition to cultivate a mix of healthy, crunchy, salty, and sweet snacks for your mid-morning, afternoon, and pre-dinner needs that love your body back. I sourced the best ingredients that contain no preservatives or artificial sweeteners. My passion for deliciously sweet treats brings you wholesome ingredients for the best vibes only.
Sourcing the best ingredients, Jordann created a line of treats that took off like wildfire. Her Paleo CrossFit buddies, gluten-free friends, and even family with no dietary restrictions couldn't get enough of these sweet snacks. That's how Base Culture was born.
Everything we do is in reflection of these humble beginnings to remind us to stay persistent in our passion: Paleo goodies that keep you grounded in the best lifestyle on Earth.
At Base Culture we're committed to delivering the same quality love and attention into our customers that we put in our products! If you have any questions whatsoever, please don't hesitate to reach out to us. Whether that's questions about Base Culture, nutrition, Paleo, or anything at all; we'd love to hear from you.
Feel free to use the contact form here, or speak directly with a member of the Base Culture family with their live chat tool you'll find at the bottom of any page on their site.
---
REFUND POLICY: 100% satisfaction guarantee. We will refund or replace your order if you are unhappy in any way. Thank you for shopping with Base Culture!
Almonds

All natural

Almond butter

Homemade from the almonds

Almond flour

Homemade from the almonds

Apple Cider Vinegar

A product made from crushing apples into a liquid that ferment overtime creating a natural cider vinegar

Baking soda (sodium bicarbonate)

Naturally occurring mineral that is mined.  Heat causes it to act as a raising agent by releasing carbon dioxide when used in baking

Cashew Butter 

A spread made from raw cashews. Made in-house. High in protein, unsaturated fats, and B vitamins

Chocolate

100% pure cocoa mass. Made from Cocoa Beans that have been dried, roasted, skinned and ground into a liquid.

Cinnamon

Organic korintji ground cinnamon. NOP and EU certified organic. Kosher certified

Cocoa powder

Organic 100% cocoa. Fat content is 10-12%

Coconut flour

Made fresh from organic coconut meat from the Philippines. USDA Certified organic. Also certified organic by ECOCERT and QAI

Coconut oil

Certified USDA organic. Certified non-gmo.

Cream of tartar (potassium bitartrate)

By product of wine making. Crystallizes during the fermentation of grape juice. The acidic compound is used to activate the baking soda to create a paleo form of baking powder

Dried fruit

Apricots, peaches, pears, and nectarines. 100% organic fruit. No added sulphur and no preservatives

Eggs

Whole eggs. All natural

Golden Flaxseed Meal

Good source of omega-3 essential fatty acids, lignans and fiber

Honey

100% pure honey

Maple syrup

100% pure Vermont maple syrup. Grade A, very dark, robust. No preservatives or artificial flavors

Palm Shortening

Non-hydrogenated vegetable shortening made from palm oil

Pecans

All natural, large fancy pecans from Georgia

Pecan Flour

Ground pecans

Pumpkin seeds

All natural

Sea salt

Unprocessed sea salt

Shredded coconut

Unsweetened 100% organic coconut with no added sulphurs or preservatives

Vanilla extract

Pure vanilla extract made with real vanilla beans. All natural, no preservatives or artificial flavors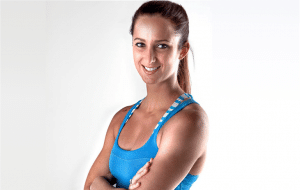 From Paleo-friendly sandwich bread to almond butter brownies, Florida's Base Culture  has a wide, delicious selection of Paleo baked goods made from scratch.  With a sweet tooth as strong as her bench lift, Jordann Windschauer  founded Base Culture with the intention of creating amazing, Paleo-friendly products and recipes for the Paleo Community. 
---
Jonathan: Hi Jordann, thanks for taking the time to talk to us today.  Can you tell us a little about yourself and how you got started with Base Culture?
Jordann: I started this company after I graduated from USF in 2012. I joined Crossfit 813 (a Tampa-based Crossfit Gym) and soon after, participated in their Paleo challenge. Not knowing anyone at the gym, I decided to participate in order to meet people. After 30 days of eating meat, vegetables, fruit, seeds and nuts I felt wonderful and noticed a lifestyle change. Not only did I loose 5 inches of body fat, I increased my lifting weights, slept through the night without trouble, and had lasting energy throughout the day. I realized that it was not eating any starch, dairy, processed sugar and salt, legumes, additives, preservatives or chemicals of any kind gave my body the cleanse it was looking for.
Through this process I came up with a couple of Paleo baked good recipes for myself to enjoy. About 3 months later the gym hosted another challenge. During this challenge I offered the baked goods to the other participants as a way to solve their sweet tooth cravings without cheating off the diet. Everyone loved the food and requested that I make them a batch when I bake again. They began placing orders and paying for their products. Soon after this word of mouth began to spread and the Tampa community were placing orders on my facebook page. I would work my desk job from 8 to 5, workout from 6:30 to 7:30 and then bake into the night. Weekends were spent delivering the products. 
Jonathan: When and how did you find the Paleo community?
Jordann: I met the Paleo community through my Crossfit gym. The Paleo diet is one of the suggested diet that crossfitters follow as it provides the key nutrients to support high intensity workouts. However, outside the corssfit gym, there is a strong Paleo community who believe that this way of life is the way to go. I have found this community to be extremely encouraging, supportive and inspirational during my growth with Base Culture.
Jonathan: What were some of your earliest experiences with the Paleo diet?  Any tips for new converts?
Jordann: I have two tips for the Paleo newbie's out there. One would be, get rid of all the non-Paleo food in your house. If it is there, you will eat it. The second tip is to always be prepared. Meal prep on the weekends and know what your going to eat everyday. If you get caught empty handed when hunger strikes, you will eat the first thing you get your hands one… Paleo or not.
Jonathan: What was the hardest non-Paleo food/ingredient to replace in your everyday diet?  For us, it's peanut butter.
Jordann: Its a tie between pizza and frozen yogurt. Whenever I have a cheat meal, it definitely consists of one or the other (maybe both). 
Jonathan: Looking at your website (baseculture.com), I see a list of ingredients in one of the drop-down menus.  Can you walk us through the process of how you found these ingredients?
Jordann: A lot of research and trial and error. Base Culture's top priority is to make the highest quality products. In order to do this, the ingredients we use have to be 100% Paleo without any exceptions. Having these standards allow individuals with intolerant digestive systems or gluten allergies to enjoy baked goods and snacks without enduing any side effects or complications. This food also allows guilt free eating for healthy minded athletes. 
Jonathan: Where do you want to see Base Culture in the future?  Any new recipes in the works?
Jordann: We are currently working on the expansion of Base Culture to ultimately become a house hold name, through creating passion, proactivity, and positive attitudes.
Jonathan: What is your favorite Base Culture product and why?  What is your customers favorite?
Jordann: My favorite product is our Almond Butter Brownie. I always have a box of those bad boys in my refrigerator at all times. This was one of the original recipes that I developed and it has always been at the top of my list. The customers favorite is the Sandwich Bread by far. We have taken a simple commodity that Paleo people have not been able to enjoy for a long time and turned it into something they can have for breakfast, lunch or dinner. Convenience is key, and being able to throw together a sandwich without breaking the diet is now an easy task to accomplish with our bread. Not to mention this allows them to have french toast, sloppy joe's and almond butter and jelly sandwiches again!
Jonathan: Your online store looks fantastic!  What's your shipping radius?
Jordann: We ship all over America. A lot of our customers actually come from California and we are working on developing a strong base out there.
Jonathan: I'm told you are a workout nut.  Would you be up for an arm-wrestling contest? 
Jordann: Any day of the week! For me, working out is fun. I love to see improvements in timed workouts and gains in lifts. More then anything its a great time to spend with my friends who could not be more supportive and encouraging. My Crossfit 813 family has seen Base Culture grow from the beginning and will always be my number one fan.
Jonathan: Anything I've missed?  Words of wisdom? 
Jordann: Helping people develop their own Strong Base and Spirited Culture. That's what we're about.
Jonathan: Awesome. Thanks for taking the time out to speak with us Jordann.
Do your products contain soy?
Answer: We offer quality gluten free products that are all soy free.
Large or small, Base Culture wants to serve them all! If you are a store owner, CrossFit coach, yoga instructor, health care provider, or anyone interested in selling Base Culture's paleo baked goods and snacks, please fill out the information here to get started!
Our 44,000 square foot manufacturing plant has the capabilities of producing 500,000 units a day. This allows us to deliver products to both large grocery chains and independent stores nationwide!
It is the goal of our Founder, Jordann Windschauer, to help people live a healthier and happier lifestyle. By working together, we can accomplish this. Let's help people build a strong "Base Culture" of clean eating!
Become a Base Culture Gym Affiliate
At Base Culture, it is our instinct to succeed. We have created a brand that consumers trust to provide the highest quality all-natural goods. That's why a partnership with us will not only help your gym members living a healthy lifestyle, but both our businesses as well.
Being a Gym Affiliate
All Gym Affiliates receive 5% of all sales received from your location.
You will be given a unique promo code to be used by your gym members on Base Culture's website.
This promo code is what will let us know the orders are from your gym member, giving you credit for their sales.
After each month you will receive payment.
Train like an animal, and eat like one too.
The Paleo diet consists of minimally processed foods. This clean way of eating naturally helps your body's athletic performance. According to recent studies, people who combine a Paleo style of eating with a steady regimen of regular exercise have experienced sustained fat loss while increasing lean muscle growth.
---
Sign up for the Affiliate Program here.
About Us : 
Established in 2010, The Paleo Foundation was first organized for the purpose of improving the tolerability of the paleo diet, and to help adherents easily identify products that met its basic tenets.  Since then, thousands of products have been certified through the Certified Paleo, Keto Certified, and lab -tested Grain-Free Gluten-Free certification programs.
---
Disclosures:
100% of  Paleo Foundation revenue is generated through certifications.  We do not accept donations, corporate sponsorships, or financially benefit from the sales of any certified products, product giveaways, or partnerships with industry contacts or retailers for the purpose of maintaining the integrity of an impartial certification standard. 
---
Certified Paleo:
Each certification program has a different set of standards.  Certified Paleo is the Paleo Foundation's first, most popular, and highest level of certification for Paleo-compliant products.  Certified Paleo Products are products that contain Paleo ingredients, but may have some 21st-century processing or packaging methods allowing for shelf stability.
---
Grain-Free Gluten-Free: 
Grain Free Gluten Free Certified products are gluten-free and do not contain any grains of gliadin competitive residues.  All Grain-Free Gluten-Free products have undergone two rounds of audits, including lab tests, and a final review to become approved for the Grain-free Gluten-free Certified Program. 
---
Keto Certified: 
The ketogenic diet is a restrictive, demanding diet that can be difficult to maintain, and tolerability of the ketogenic diet is the single most important factor limiting individual acceptance for initiation.  Therefore, improving the tolerability of the ketogenic diet is crucial to preventing diet discontinuation, warranting further investigation into methods for improving palatability, improving the availability and convenience of foods that are compliant with the ketogenic diet, as well as addressing cultural and social acceptance.
The Keto Diet product market may be in a unique position to improve tolerability, especially in social and cultural environments that typically feature carbohydrate-rich "special occasion" types of foods. In 2016, the Paleo Foundation launched the world's first Keto Certified program for products with standards that were developed for adherence to a classical ketogenic diet.