BigHorn Biltong developed through a love for good food, fine beers and a desire to escape the rat race of corporate business. I am well travelled and a passionate follower of both national and international rugby, occasionally dabbling in a little local cricket and always up for a round of golf! I am a typical carnivore that enjoys the occasional snack and very good beers and have become tired of the usual crisps, pork scratchings (yep they are still around), olives and peanuts. They always left me feeling cheated and wanting more…
Now just entering the prime of life and needing to take care of the body I am now left with, I have become more aware of the need for a more healthy snack option while continuing to enjoy the sport and drink of my choice. Which is where biltong comes in…
A tasty nutritional snack made from british rare breed, grass-fed cattle brought to you through a passion for wanting to get things right - created in the heart of the Worcestershire countryside by myself and my partner, Carole. Abi, Carole's daughter is instrumental in supporting us both at festivals and with the social media aspects of our website.
BigHorn Biltong… wow… now there's a name! The fun we have had over the table laughing, squirming and generally giggling about all sorts of connotations. But seriously our passion for starting with only the best ingredients that being rare breed British beef led us to the obvious conclusions. We hope you enjoy our biltong as much as we do and welcome all comments, online or just pick up the telephone.
---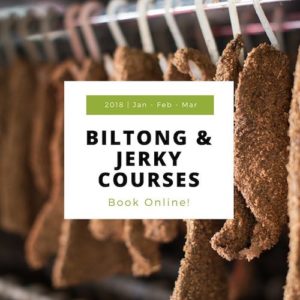 Biltong Making Course
Calling all biltong enthusiasts, meat lovers & foodies
We are offering you the fantastic opportunity to learn the artisan process of biltong making in the beautiful countryside setting of BigHorn Biltong HQ in Worcestershire. Our one-day biltong making course will provide you with the knowledge, skills and equipment to make your own delicious biltong — in your own home!
Available Dates
We run weekend courses from October through to May, however tailored corporate courses are run throughout the week to suit our customers. Please contact us for further details
Get the knowhow to:
Learn how to choose the right cut of beef
We will guide you through the different cuts of beef, and show you how to select the right cut of beef to create the best biltong
Understand the difference between biltong and jerky
Yes, there's a difference! You'll not only learn the fundamental differences between jerky and biltong, but you will make it both yourself
Create your own biltong at home
We will give you the knowledge, skills and equipment to make biltong at home, in your very own biltong box that you will make on the day
Gain hands-on experience:
Create your own marinade
You will be able to make your own dry-rub marinade from scratch. Choose the seasonings and spices and create a flavour you love!
Prepare, marinade & hang the biltong
We will guide you through every step of the biltong making process, and by the end of the day you will have made your own biltong from start to finish
Make your own jerky
The best way to understand the difference between jerky and biltong is to make them both yourself. So you will be heading home not only with your homemade biltong but also the jerky you will make!
Build your own biltong box
Get stuck in, and build your own fully functioning, wooden biltong box (DIY skills not required – but a sense of a humour is!)
Local beer and biltong pairing
This is the bit where we invite our good friends at 

Stroud Brewery

 to come and educate us all about beer and biltong matching. With plenty of beer and biltong for you to taste, you will be beer and biltong pairing experts in no time!
---
Interested in our fun & informative course?
Please call us or email us to book your place