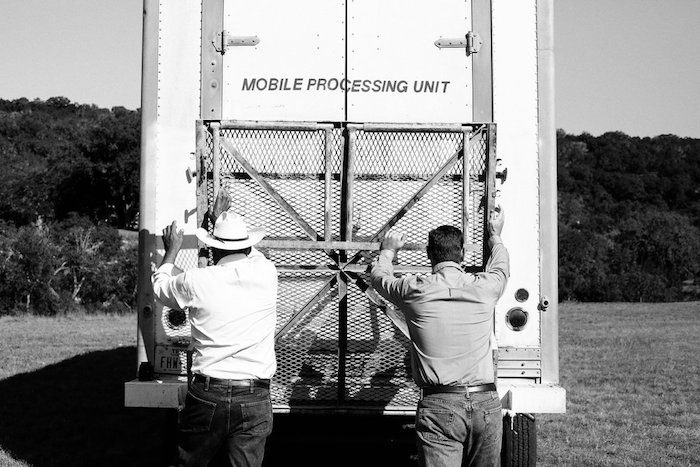 Our Story
"Mike Hughes used to carry meat around in a briefcase and walk the streets of NYC and Chicago, to get chefs to taste his meat. In some places, they still talk about it. These chefs have been buying meat from us for over 30 years now."
The concept of field harvesting and processing wild venison was pioneered by Chris's father , Mike hughes, back in 1983, and after developing the technology and helping to improve the legislation that made it feasible, Broken Arrow Ranch is still the industry-leader in pure wild meat to your table.
The operation has grown over the years, with more mobile meat processing units being sent to harvest on nearly 40 unique ranches every year. The team works with wildlife ecologists, ranch owners and managers to identify over-populated herds on private land all across the state of Texas, seeking opportunities to use selective harvesting to improve the health of the herd and land.
We ship thousands of orders all over the United States. Originally, we worked only as a wholesaler for Chefs and restaurants, but in 2007 we began shipping much smaller orders to individuals. With the growing number of food sensitivities and extreme allergies, we realized that we became a resource for many people who could only eat wild game because of allergies to synthetic hormones, bulk livestock feed and other human additives. Our work sustains the lives of many people whose only other option would be to transition to a strictly vegetarian diet.
Now, Broken Arrow Ranch's work has expanded beyond just the requirements of taste, but has deepened to a focus on purity. Pure food, is the best food. It tastes the best, makes our bodies feel the best, and ultimately, results in healthier natural ecosystems.
Our Vision: Pure To Table
We believe Purity is an even higher standard than just quality. Pure is honest, natural, and genuine. When chefs and gourmets seek the purest foods in the world they are often foraged from the wild. Think bluefin tuna and white truffles. The real thing isn't cultivated, it must be found and harvested. When purity matters one must go beyond merely high quality. For many, this high standard is the minimum standard for their wellbeing.
At Broken Arrow Ranch our focus on quality is built around purity.
Our Mission: Protect the Pure
Every process is meant to protect the purity. Our premium meat is field-harvested from the wild. It's shipped efficiently right to your door. Every rancher is fairly paid for every pound of meat we harvest and every employee is cared for like family. For us, a pure customer experience means keeping you satisfied through the last bite. We strive to serve every person and every animal well in all we do.
"We are quality obsessive. We give authority to every employee to make a decision for quality."
—Chris Hughes, Owner
Our Process
We field-harvest animals with a mobile unit from overpopulated ranches, process them onsite under government inspection, pay the rancher for every pound and bring the meat back to our butchers.
The meat rests during a special double-aging process that helps tenderize it and enhance flavors.
Orders are filled and shipped overnight to you, anywhere in the USA.
Everything is delivered in an insulated shipping cooler right to your door. It can be used immediately or kept frozen for up to 1 year.
Enjoy your wild game meat using one of our many recipes or with one of your own.
That's purely wild meat to your table.