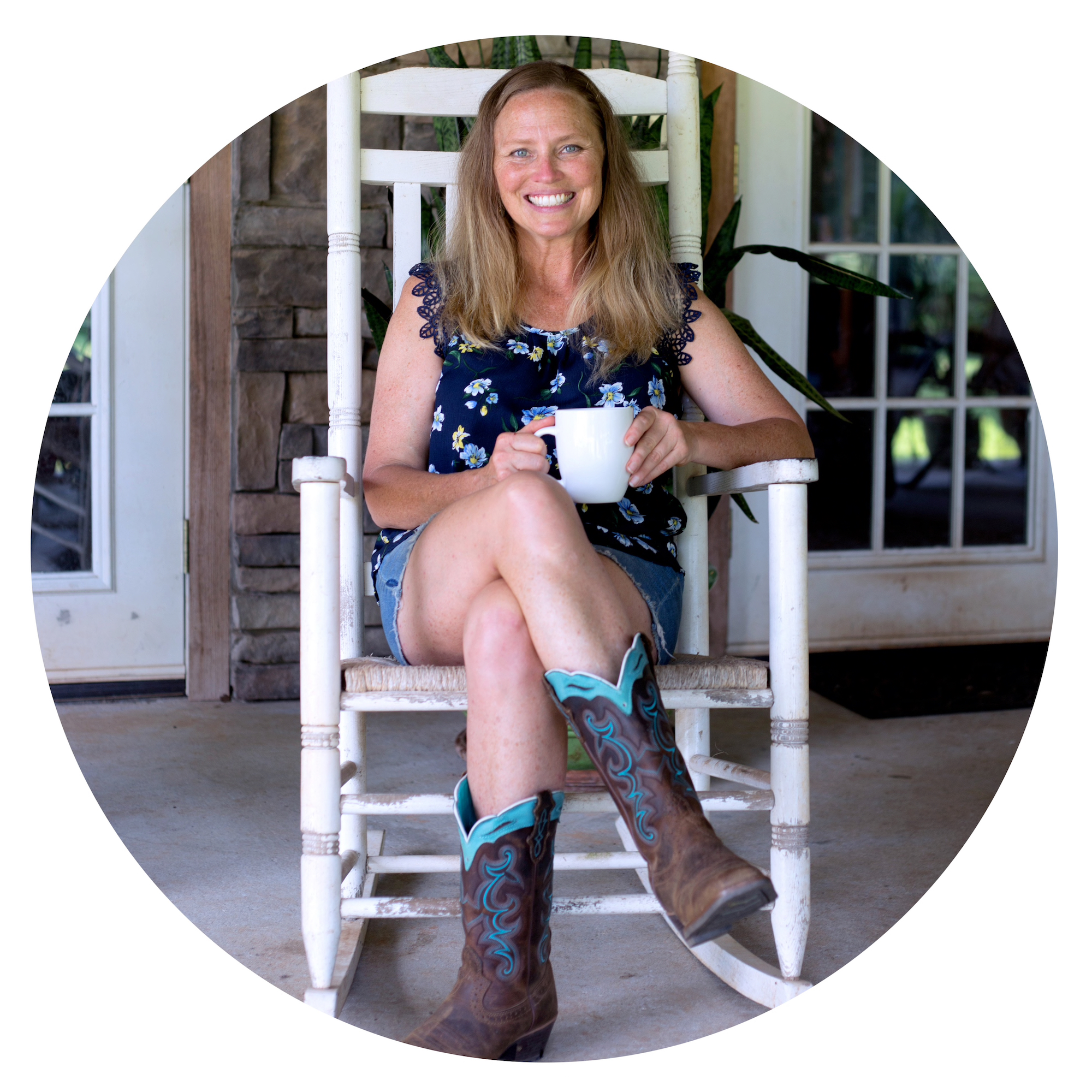 HI THERE! I'm Shalley — the Buffalo Gal. Not the kind who dances by the light of the moon, although I admit to having done so before. I'm this kind (see Betty and me above). The buffalo you're likely thinking of is actually a bison (more on that in my upcoming video "BUFFALO 1.0"!)
I am the creator of Buffalo Gal Grassfed Beauty, a holistic skincare line.  By HOLISTIC I mean a minimalistic approach for maximum results!  We use ingredients that are 100% SAFE, all-natural and organic, centering around our artisanal multi-species grassfed tallow.  Every single ingredient has a specific and important healing role in our formulations.  I am also a holistic practitioner and a sustainable livestock producer.  My husband, David, and I farm "outside the box", raising Asian water buffalo, alpacas, and Katahdin sheep in a grass-based operation in Monroe, Georgia: Carrell Farms, Inc. (check out our Facebook page.)
My outdoor lifestyle exposes my skin to harsh conditions. For years I was hard pressed to find a good "natural" moisturizer to satiate my element-ravaged skin for any length of time, without greasiness or high expense. Companies touting the same "vegan", "organic", and "botanical" slogans enjoyed nice earnings off the likes of me! Nice products, but always the same lackluster results. Something was missing.
Don't get me wrong — wonderful smelling, skin-smoothing lotions, body butters, and creams are among my FAVORITE things. I've always been a natural skincare fanatic — LOVE the stuff. And, because I'm rather particular about what I eat, I also insist on not slathering my skin with the synthetic chemicals that come with even "all-natural" products. This all led me in the direction of starting my own skincare line.
I acquired a lot of knowledge about essential oils and nutrition over the years. I checked out endless companies and ingredient choices, but in my research I couldn't find something better than was already on the market – that missing magical ingredient.
Fast forward several years, now married to a grass farmer, imagine my discovery that the "missing magical ingredient" was in my pasture!
If you haven't guessed by now, I'm talking about animal fat, a special kind of animal fat called TALLOW.  So what is tallow, where does it come from, and why is it the magical ingredient missing in modern all-natural skincare?  Read here to find out why I think TALLOW = GOLD?
All I can say is it IS the ingredient I was missing! FINALLY. It really is like gold to me. It provides deeply nourishing, protective, and long lasting moisture for my element ravaged skin. Not to mention . . . it's incredibly nutritious! After regular use I see in the mirror radiance despite photodamage. My esthetician comments on my skin's improved elasticity. It has a healthy sheen instead of the tired, ashy appearance from before.
As I started crafting different formulations my family and friends tried them out with amazing results, too.  I feel a lot of joy crafting and selling a product that fits my mission of artisanal, holistic, and helpful for myself and others.  And that's how Buffalo Gal Grassfed Beauty was born!