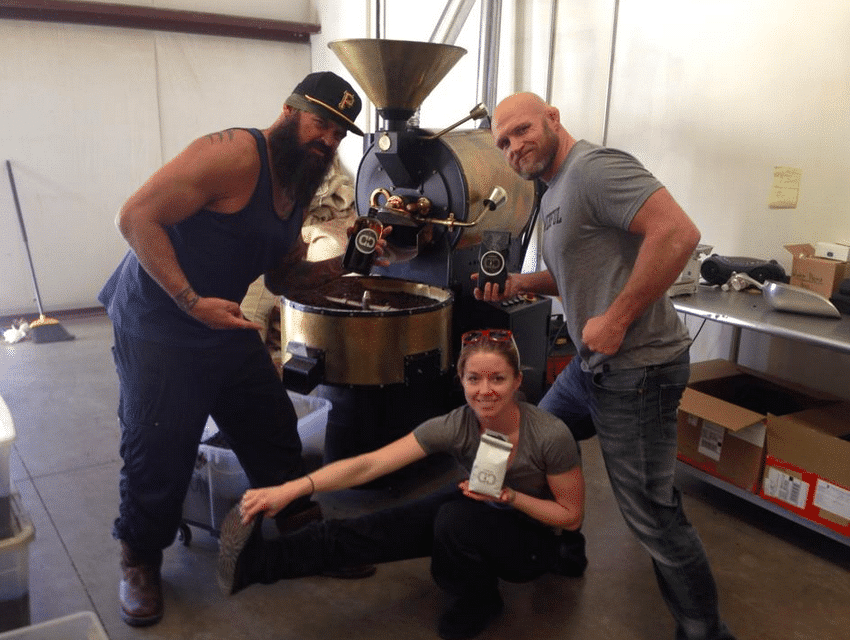 The Owners and Faces of Caveman Coffee Co.
Tait Fletcher is a SAG award winning actor and has recently appeared in Breaking Bad, Jurassic World, John Wick,  The Equalizer, The Attorney, and many more. He is an accomplished MMA fighter and BJJ Black Belt. Tait's career also includes being a professional stuntman. He owns a successful gym in Santa Fe, NM that offers CrossFit and 10th Planet Jiu Jitsu programs. He is an investor in Nuevo Cerveza, Bloody Maria and the successful chain of Concrete Cowboy bars in Texas.
Keith Jardine is a World Champion UFC fighter. He is one of the most recognizable faces in the MMA world, known as "Keith the Mean Jardine." He is a professional stuntman and actor and can be seen in such blockbusters as Inherent Vice, John Wick, Maze Runner, Breaking Bad and many more. He also owns a hot yoga and functional movement gym in Albuquerque called Hot Yoga Infusion. His personal experience with training and nutrition are at the foundation of the Caveman Coffee's company values.
Lacie Mackey is a professional stunt trainer and CrossFit athlete. She currently trains Hollywood's leading actors and actresses to prepare for high action stunts on camera. She competed in the Southern California CrossFit Games Regional twice and was on a 2011 team that went to the CrossFit Games.  She is very integrated in the CrossFit community worldwide through her business travels and time competing. She has a background in business marketing and has created and run national programs for Fortune 500 companies over the last 10 years. She applies this experience to Caveman operations.
Caveman Coffee Partners
The caveman team utilizes its partner system to produce the best products on the market. Sustainably sourced products that are clean grown and processed make up our product line. From the beans to the cacao and MCT, all our products are from farms and manufacturers that we have met and believe in.
Our Coffee
Each bean is grown under the UTZ certification and Rainforest alliance protocols for sustainability and natural growing practices. No pesticides are ever used on the plants, and they are watered by nature alone. They are handpicked, only when ripe, and wet-processed for drying. This process produces the highest quality dried beans for roasting. It preserves the natural flavors and nutrients while cleaning the beans from the fruit and preventing molding and bitterness. Caveman Coffee Co team imports the beans and roasts them with a master roaster, who is one of the best in the world. This process — from growth to roast — produces an unbelievably smooth coffee that is never burnt and maintains the best nutrients for the consumer. Caveman routinely tests it's products for food safety to ensure the highest standards are continually met.
Caveman utilizes leaders outside of the company for nutrition and business advice. Business Partners at Onnit Labs have helped secure the best business practices and logistical management.  Nutrition advisors such as author and scientist Robb Wolf and the leading athlete dietician Mike Dolce continually participate in Caveman product research and development.  The Specialty Coffee Association has provided invaluable seminars and learning options for new industry practices and policies.