It all started in 1994 when I rented the 4-H kitchen at the Whidbey Island Fairgrounds to bake my way to a better life. Inspired by my mom's healthy baking and armed with a KitchenAid mixer, I created a revolutionary new way to serve breakfast... The Original Breakfast Cookie was born!
For the last twenty years, oats and fruit have been the staple ingredients in my bakery, making us unique in our efforts to provide healthier food products. I take great pride in baking products with whole food ingredients that are sourced close to our bakery. While the "hands in the dough" touch is more time consuming, the gentle treatment of the raw ingredients results in a more premium product in terms of taste and texture, and also ensures my granola is full of whole, chunky clusters.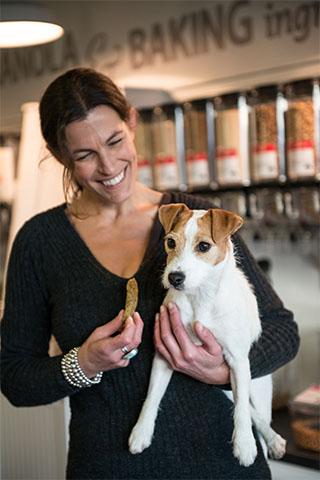 "I believe in a better way to eat, and I won't take 'no' for an answer."
I am fortunate to have a very talented and smart mom who also happens to be a real foodie. I spent my childhood observing my mom doing it "old school," growing food of all kinds and then canning, drying and preserving for eating all year long. There was a constant bowl of whole wheat bread dough rising on the heater vent along with passionate conversation about the difference between whole food and refined processed food and why we don't eat "that margarine crap." I learned about the high value of whole foods and the absence of value in refined and processed foods.
I lived in San Francisco Bay Area in my early teens and 20's where I was inspired and educated by talents the likes of Alice Waters, Bradley Ogden and Emily Luchetti. They celebrated the importance of whole foods and demonstrated how to cook and bake with whole foods with wild success, this was in the 80's... they were onto something! Exposure to this genius left me determined to cultivate my own brand of success.
I believe in my products like we believe in our kids... with all of my heart. And... I am just getting started.

Erin Baker, Owner and Founder
---
Help Feed 1 Million Kids Program
Eating healthier can change lives, we see this positive change every day in the kids at the Boys & Girls Clubs! We give them a nutritious snack chock full of whole food ingredients and they are fueled to give their best at study, work, and play. We're able to donate 10,000 Breakfast Cookies every month to kids in need! Learn more at www.HF1MK.com