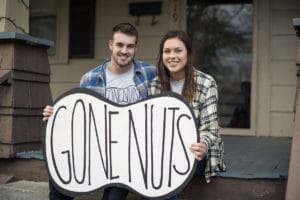 Both having been collegiate athletes, we knew that proper nutrition was vital for performance. We also knew that everyone, including families and kids, could benefit from fueling their bodies properly. We wanted Gone Nuts to be part of your daily fuel! So, two college students began creating nut butters that are made with good for you ingredients and taste great! Now that's
This is just the beginning of our story… follow us on social media to join along on this crazy journey!
Tara: Co-founder, Director of Marketing
Avid online shopper, 80% health nut
Guilty pleasure? Authentic tacos
What's in your coffee? Almond milk
What will you never leave the house without? Chapstick
Brennan: Co-founder, Head of Operations
Crossfit enthusiast, Jeep junkie
Guilty pleasure? Chocolate shake
What's in your coffee? Nothing!
What will you never leave the house without? Apple Watch