Health Garden of NY INC
Health Garden is dedicated to providing families across America the highest quality of all natural, low glycemic, Project Verified Non-GMO, gluten free, Kosher sweeteners. Health Garden sweeteners do not contain artificial fillers and continue to be the foundation of wholesome meals without ever compromising on taste.
Certified Products: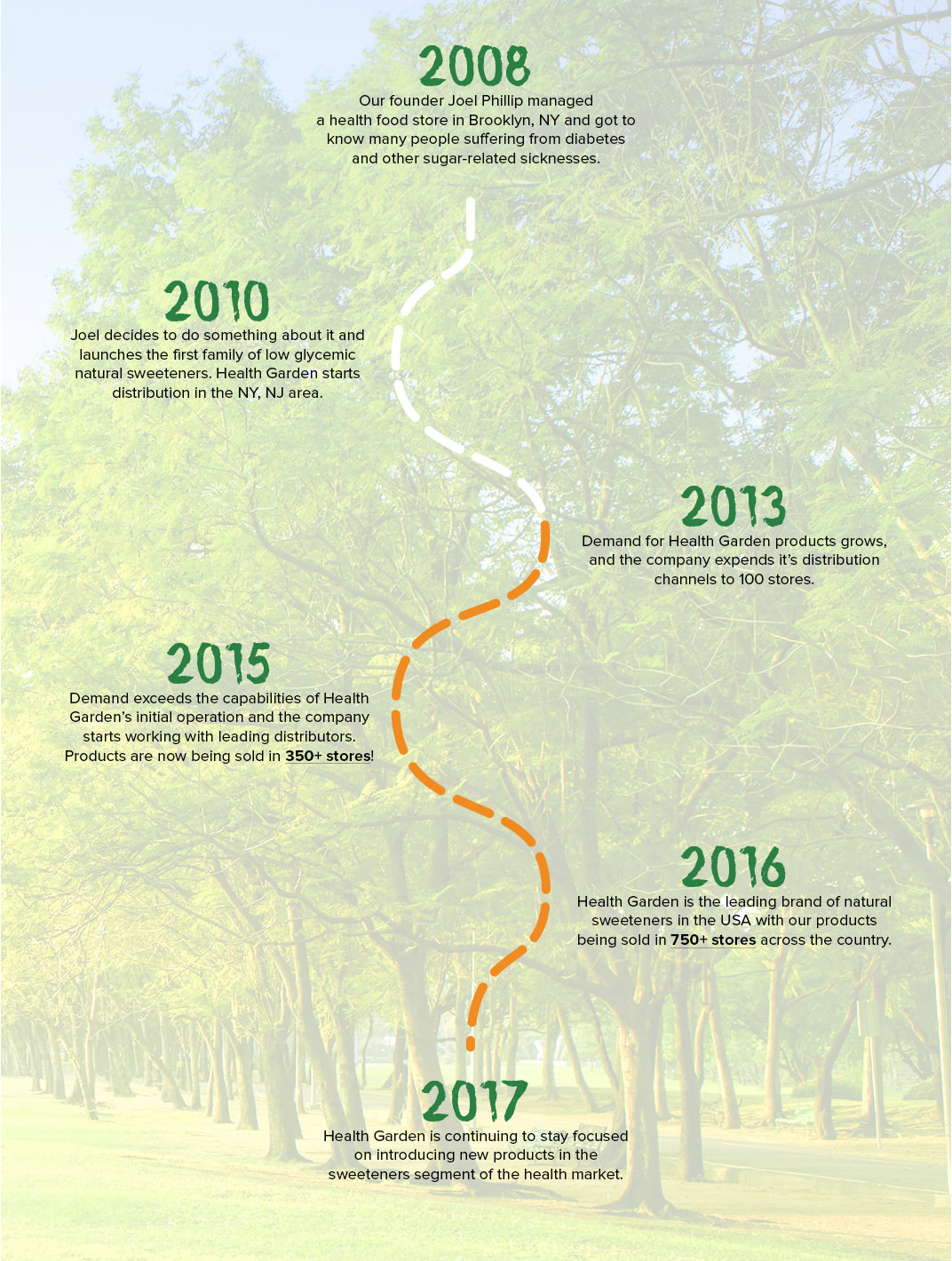 | | | |
| --- | --- | --- |
| | | Ingredients: Organic Coconut Palm Sugar |
| | | Ingredients: Organic Coconut Palm Sugar |
| | | Ingredients: 100% Birch Xylitol |
| | | Ingredients: Organic Blue Agave Nectar |
| | | Ingredients: Organic Blue Agave Nectar |
| | | Ingredients: Organic Agave Nectar |
| | | Ingredients: Xylitol, Natural Vanilla Flavoring |
| | | Ingredients: Erythritol, Monk Fruit extract |
| | | |
| --- | --- | --- |
| | | Ingredients: Erythritol, Monk Fruit extract |
| | | Ingredients: Erythritol, Stevia Leaf extract |
| | | Ingredients: Erythritol, stevia |
| | | Ingredients: Erythritol |
| | | Ingredients: Allulose Granular |
| | | Ingredients: Xylitol, Tapioca Starch |
| | | Ingredients: Xylitol, water, honey flavoring, xanthan gum, pectin, citric acid, sorbic acid, caramel color |
| | | Ingredients: Xylitol, Inulin, Beet Fiber, Seaweed Extract, Bentonite Clay |
Are Health Garden Products Natural?
Answer: All Health Garden Products, without exception, are produced from 100% natural ingredients. We do not add any artificial flavoring, coloring, fillers or chemical sweetening agents. Exactly what the label reads is what you get.
Where do Health Garden products come from?
Answer: Health Garden travels the world to find the purest sources of natural sweeteners, such as Stevia, Xylitol, Erithrytol and similar non-sugar sweet plant extracts which have been used for centuries by civilizations across the world.
Why are Health Garden products better than other brands?
Answer: Health Garden does not take any short-cuts. Every one of our products is processed slowly and perfectly to ensure proper crystallization, balance and taste. The granules will all be smooth and evenly colored, unlike other brands that don't properly mix and process the ingredients. This makes our quality and taste superior.
Do Health Garden products contain GMO?
Answer: No. Health Garden does not genetically modify any of the ingredients in any of its products. We are Project Verified Non-GMO.
Why are natural sweeteners better than artificial sweeteners?
Answer: Many studies have shown that artificial sweeteners have adverse health effects on children and adults. In fact, artificial sweeteners have recently been linked as a cause for diabetes in children. Health garden all natural sweeteners are perfectly safe for human consumption with no health side effects and are safe for diabetics and others on a low-Glycemic index diet.
Can Health Garden products be used for cooking and baking?
Answer: Of course! Substitute our natural sweeteners for sugar in any of your favorite recipes and you – and your family- will not be able to tell the difference! Certain products are better for baking than others, so make sure to read the labels and choose the perfect natural sweetener for your fluffy pastry recipes.
Do Health Garden products contain Gluten?
Answer: No. All of our products are 100% Gluten-free.
Do Health Garden products leave an after-taste as many artificial sweeteners do?
Answer: Although most artificial sweeteners, and even some natural sweeteners, leave an unpleasant after-taste, Health Garden products do not. This is due to our specialized formula that ensures that our granules are perfectly crystalized, which makes their taste sweet, before, during and after you enjoy any recipe.
Join Our Team
Do you enjoy a healthy lifestyle?
Does the idea of educating other on the benefits of wholesome, healthy ingredients pique your interest?
Do you enjoy experimenting with healthy & delicious recipes?
Apply to become a Health Garden Ambassador
Receive free products every couple of months plus exclusive offers and collaborative opportunities. Simply, fill out the form here. We look forward to hearing from you!
About Us : 
Established in 2010, The Paleo Foundation was first organized for the purpose of improving the tolerability of the paleo diet, and to help adherents easily identify products that met its basic tenets.  Since then, thousands of products have been certified through the Certified Paleo, Keto Certified, and lab -tested Grain-Free Gluten-Free certification programs.
---
Disclosures:
100% of  Paleo Foundation revenue is generated through certifications.  We do not accept donations, corporate sponsorships, or financially benefit from the sales of any certified products, product giveaways, or partnerships with industry contacts or retailers for the purpose of maintaining the integrity of an impartial certification standard. 
---
Certified Paleo:
Each certification program has a different set of standards.  Certified Paleo is the Paleo Foundation's first, most popular, and highest level of certification for Paleo-compliant products.  Certified Paleo Products are products that contain Paleo ingredients, but may have some 21st-century processing or packaging methods allowing for shelf stability.
---
Grain-Free Gluten-Free: 
Grain Free Gluten Free Certified products are gluten-free and do not contain any grains of gliadin competitive residues.  All Grain-Free Gluten-Free products have undergone two rounds of audits, including lab tests, and a final review to become approved for the Grain-free Gluten-free Certified Program. 
---
Keto Certified: 
The ketogenic diet is a restrictive, demanding diet that can be difficult to maintain, and tolerability of the ketogenic diet is the single most important factor limiting individual acceptance for initiation.  Therefore, improving the tolerability of the ketogenic diet is crucial to preventing diet discontinuation, warranting further investigation into methods for improving palatability, improving the availability and convenience of foods that are compliant with the ketogenic diet, as well as addressing cultural and social acceptance.
The Keto Diet product market may be in a unique position to improve tolerability, especially in social and cultural environments that typically feature carbohydrate-rich "special occasion" types of foods. In 2016, the Paleo Foundation launched the world's first Keto Certified program for products with standards that were developed for adherence to a classical ketogenic diet.