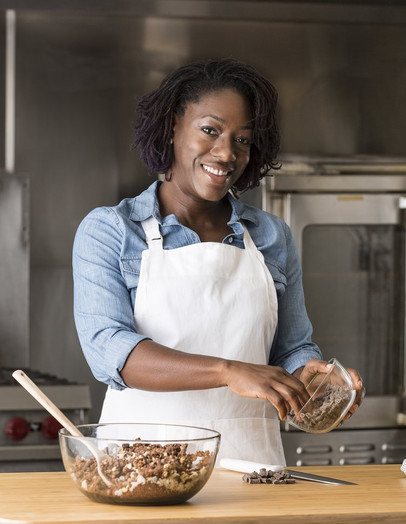 Chef Keesha
Keesha D. Waits is a Certified Pastry Chef, who has graduated from the College of Culinary Arts, and Le Cordon Bleu- Austin Texas. She has always been a baker and her fondest memories are from childhood baking "delicious" desserts for family gatherings or the one-of­ a kind cakes her mother would bake for her birthdays.
Keesha has two strong passions, fitness and baking. When her family moved to Austin, Texas in 2006, she was torn with pursuing personal training full time or attending one of the best culinary schools in the state.
Well...she chose both!
Shortly after finishing her Patisserie and Baking Certification she and Gloriana Koll opened a specialty cake shop in south Austin.
After the cake shop closed in 2011, the granola business began, evolving into Kitchun. With Keesha's battles with rheumatoid arthritis, a grain-free lifestyle makes for better days. After searching the market for tasty grain-free snacks and finding a void, she and Gloriana decided who better to bring those products to the market?  They began creating grain-free snacks that not only taste great but make you feel great too!
---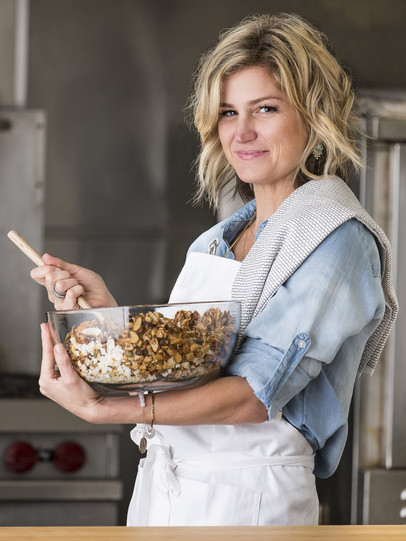 Chef Gloriana
A Texas girl at heart, Gloriana Koll spent her youth by her mother's side in the kitchen and this is where she gained her love of cooking.
In 2007, Gloriana attended the Texas Culinary Academy, Le Cordon Bleu studying Patisserie and Baking and became a Certified Pastry Chef. It was there that she met Keesha Waits. Little did they know at the time that they would develop a great friendship and be business partners for years to come.  After culinary school, the duo started their own custom cake business.
Her love of Pilates also led her to become a comprehensively certified Pilates instructor. Starting a family made her re­evaluate the foods she was cooking. After doing research, she discovered that a grain-‐free diet would be best for her family. "I knew I wanted to make a change and after learning all the benefits of a grain-free life, I slowly made the transition at home."
This led to the discovery that there weren't many snacks available to suit this lifestyle. Out of the notion that people shouldn't sacrifice their love of sweets for tasteless snacks just for the sake of being "healthy", Gloriana and Keesha began working on recipes to solve this "problem". Tired of reading labels with unrecognizable ingredients they wanted to give people a reason to feel good again about what they were eating and take the "fear" out of what was in their food.
It was then that KITCHUN NO-GRAIN-OLA was born.