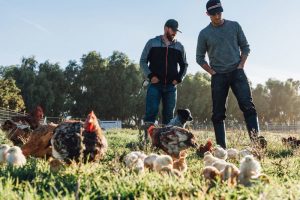 In early 2012, our family ordered 54 chicks to raise outside — on pasture, with fresh air, sunshine, and plenty of room to roam and forage. We had all battled various health issues including arthritis, excess body fat, allergies, etc and began to understand the instrumental role that eating real, quality foods play in healing the body.
During our quest to find more healthy food options, we soon realized that the chicken in grocery stores was being raised in a way that made us seriously question whether or not we felt okay about feeding it to ourselves and our children. So, we decided to raise our own. Much to our surprise, all 54 chickens pre-sold in just 2 weeks and we had accumulated a wait list of 110 families before we had even processed our first batch of birds.
Next month, we ordered 100 more and the same thing happened. Then 200, 500, 1,000, and so on. We decided to call our farm "Primal Pastures", and quickly became one of the premier pastured livestock farms in Southern California, adding lamb, beef, pork, and more to our product offerings. We received an outpouring of support from the local real food community, selling direct to consumer through our online farm store and offering home delivery services.

We soon had hundreds of restaurant, grocery, meal prep, and other wholesale requests come through and sadly had to turn them all away due to limited supplies and distribution methods. We desperately wanted to work with many of these amazing chefs and purveyors, and in 2015 finally decided to make it happen.
We formed Pasturebird, Inc. in 2015 with the mission of providing the highest quality pasture-raised poultry to wholesale customers. With a focus on transparency, customer service, and top quality products, Pasturebird is the gold standard for operators who believe that chicken should be raised "Always Outside", on lush green grass, with fresh air and sunshine replacing the antibiotics and vaccines that are the standard in poultry grow-houses.
Our farm is located an hour and a half from Los Angeles, Orange County, and San Diego, and we'd love to welcome you to meet your farmers and witness our operation in person.