OUR STORY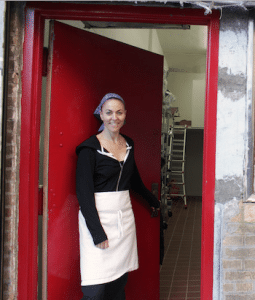 "We can eat whatever we want. But we should be eating pie. Stop worrying about calories and start looking at ingredients." - Chef Diana
This Pie Is Nuts! Literally. We make individual pies and granola with nuts and seeds! Our products are Certified Vegan, Certified Paleo and Gluten Free, using ingredients your body will recognize and a taste you won't believe.
Over 20 years ago I was diagnosed with Multiple Sclerosis, a degenerative disease that reduces the body's ability to function properly. Without a cure, and with minimal solutions for keeping the symptoms at bay, I decided to take control of my health through diet changes. Realizing the power of whole foods and their relationship to the body, I was inspired to learn more and enrolled in the culinary school at The Natural Gourmet Institute in New York City. There I gained insights on how to create food that not only tasted great but utilized ingredients that support and benefit the body.
Newly inspired and gaining control of my disease, I knew I needed to find a way to empower others through diet. And 'This Pie Is Nuts' was born. We are a company that puts YOU first. Our products are made of the highest quality ingredients that are designed to work FOR your body while tasting amazing. This Pie Is Nuts is dedicated to whole, unprocessed foods that nourish and satisfy with every bite.
We left out all the artificial additives, dairy, eggs and wheat, providing you with the nuttiest pie out there. So savor it, inhale it and find power knowing that you are nourishing your body for whatever may lie ahead. Enjoy our products for breakfast, pre- or post-workout, as a midday pick-me-up or a decadent dessert.
Now sit back and enjoy some pie!!
-Chef Diana