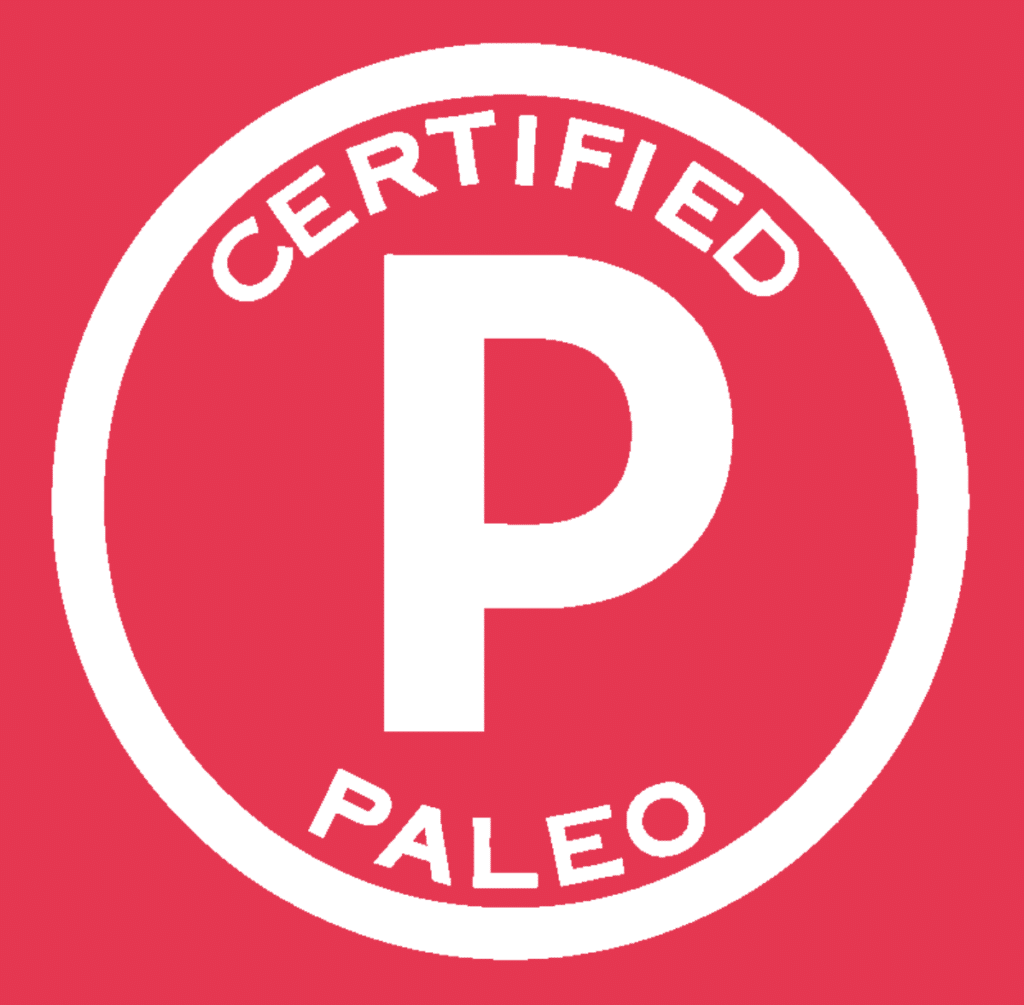 THE MAIN FEATURE:
CERTIFICATION MARK
The first and primary feature of Paleo Certification is the logo itself. It serves several distinct functions, and comes with many additional benefits to those who earned the right to bear it.
At it's most basic level, the logo itself serves to help Paleo consumers easily and readily identify products that fit into their lifestyle, but it also helps companies formally identify themselves as being aligned with the Paleo Food Tribe, and has the ability to impart a level of trust that comes from knowing that the product that bears the label has been recognized by the world's first, largest, and most established third party Paleo Certification Organization: The Paleo Foundation.
WHY BRAND TRUST IS IMPORTANT
"You can have all the facts and figures, all the supporting evidence, all the endorsements that you want, but if at the end of the day you don't command trust, you won't get anywhere." – Niall FitzGerald, Former Chairman and CEO of Uniliver, Current Chairman of Reuters.
As human beings, we inherently understand the importance of trust. From finance, to friendship, to even the contents of our food. Trust may seem warm and fuzzy, but it delivers cold, hard results for businesses and brands.
In January 2009, study was completed by HuTrust looking into the benefits and drivers of trust which surveyed 1000 North Americans from Research Now's panel of online respondents. This study found that when people trust a brand, 83% will recommend it to other people, 82% will use its products and services frequently, 78% will look to it first for the things they want, 87% will give its new products and services a chance, and 50% will pay more for its products and services.
In effect if you want people to buy more, try more, and pay more, then harnessing brand trust is the key.
HOW BRAND TRUST INCREASES SALES
According to the Harvard Business Review, building brand trust and confidence is a "critical strategic asset" in sales as consumer choice increases, and the consumer is tasked with making purchasing decisions among similar items. Therefore, developing strong brand trust, confidence, and credibility can be crucial not only to initial sales conversions, but also to choosing the same brand time and time again.
From the consumer standpoint, it can be a tedious and time-consuming task to make an informed decision on a product based on ingredient statements and labels alone. As consumer skepticism over labels increases, the advantage of third-party certification increases as well. Certification improves credibility by offering consumers peace of mind knowing that the product has been independently verified by a regulatory agency to meet a specific set of standards, and food values.
Studies by both Cone Communications and Globescan suggest that the majority of consumers agree that the best way to verify a product's claims are through independent third party certification, and consumer studies suggest that more than 60% of consumers agree that independent certifications increase trust in a brand.
A brand is defined by the place it holds in the heart, mind, and wallet of its customers.
These studies contribute to growing bodies of evidence that certifications are a major tool that companies use to show their commitment to their food tribes, to quality standards, and that these commitments are implemented as part of the identity of the brand.
HOW PALEO CERTIFICATION INCREASES BRAND TRUST
When browsing the grocery aisle, consumers are bombarded with and confused by a myriad of special labels. "Organic," "all natural," and "pasture-raised," and now "Paleo" are just some of the more popular ones. While these labels were originally intended to help consumers differentiate products and communicate meaningful information about what the products contain, some of the labels are not regulated and therefore misused, which can be misleading consumers.
The benefit of Paleo Certification lies within the difference between a certification mark and a label. A label is any claim made on a food product, where such a claim may or may not be regulated. A certification mark on the other hand is a label that can only be used if the product meets certain standards set and regulated by an agency. Thus, all certifications marks are labels, but not all labels are certifications. Because certifications are regulated by an independent agency, certification marks have the ability to impart credibility and improve brand trust for products which bear them in a way that labels cannot.
The Paleo Certification Mark, or logo, is the primary feature of Paleo Certification from the Paleo Foundation.
THE CASE FOR INDEPENDENT PALEO CERTIFICATION
As the Paleo Diet continues to increase in popularity, labeling and mislabeling practices are becoming increasingly more prominent in the marketplace. Some of the most notable examples of this include products that have "Paleo" labels yet contain soy, pseudograins, industrial grain oils, brown rice syrups, and even artificial sweeteners. This has led consumers seek out Paleo Certification as a trustworthy means to ensure that these criteria are being met and addressed by the products they purchase.
The Certified Paleo label is the first and primary feature of Paleo Certification. Developed and trademarked by The Paleo Foundation to establish an easily identifiable mark for food products that have met the strictures of the Paleo Diet, devoid of cereal grains, pseudograins, legumes, and dairy. Its use is only permitted by those who have met the standards of the Paleo Certification program, and who have entered into a contractual agreement with The Paleo Foundation to maintain them.
The Paleo Foundation does not accept sponsorships, does not financially profit from sales of products, and does not accept products into its programs unless standards are met. With a strict code of ethics in place, Paleo Certification can only be meritoriously awarded, ensuring that those who receive the certification have earned it.
THE PALEO "FOOD TRIBE"
The Nutrition Business Journal's (NBJ) 2015 Special Diets Report suggested that "We have become a nation of Food Tribes" and that "Many are motivated not just by a desire to lose weight but, rather, a new lifestyle inextricably linked with their social circles and stances on environmental and animal welfare issues." The motivations of various food tribes range from health to emotions to ethics, but also points to the concept of personal identity. The NBJ report also suggests that as many as 3 million people in the US identify as 'Paleo', and have had a profound influence on industry trends and demand.
Although food choices are complex, products targeted to specific "food tribes" and identities are "rich with opportunities for brands who are clear about whom they are serving and why" according to NBJ.
According to Pineapple Collective 2016 Health and Wellness guide, skepticism around food labels has led health-seeking consumers to rely on third party certifications which validate products that are aligned with their personal eating philosphies, or "Food Tribes."
Products bearing the Certified Paleo label indicate to Paleo "Food Tribalists" that not only is the product is aligned with their food values, but that it has also been independently verified by the Paleo Movement's first and oldest certification organization, The Paleo Foundation, to assuage concerns regarding mislabeling practices. For producers who wish to avoid re-branding to target a specific segment of the Paleo Food Tribe, Paleo Certification bridges the gap to indicate to a consumer that the product is aligned with their food philosophy.
WHERE WE BEG TO DIFFER
We are neither a B to B, nor B to C business— we are an A to Z business that endeavors to offer more value than any certification organization has ever endeavored to offer before.
FEATURE #2: BUSINESS TO CONSUMER OUTREACH
Marketers know that building and maintaining brand awareness is an important part of marketing success. Awareness is the first stage in the customer purchase funnel since a potential buyer must be aware of your product or service before evaluating and consciously choosing to purchase a brand. For companies who rely on online sales, or if a brand is marketing toward a specific niche market or food tribe, brand awareness is crucial to sales because is the step that allows for consumer consideration, and ultimately purchase. Savvy marketers know that these relationships are important, and so do we.
Social Media: Even in its infancy, the primary goal for the Paleo Foundation was not only to certify products that met the strictures of the diet, but to also increase awareness about them. To meet this goal, we established the world's first and largest Paleo group, the IPMG, and also became active on social media sites such as Facebook, Twitter, Instagram, and Pinterest. Today we remain very active on those social sites, and have garnered almost 300 thousand followers on Instagram, 62 thousand on Twitter, 10 thousand on Pinterest, and 43 thousand on Facebook from Paleo Foundation run handles for a total of an estimated 425 thousand social media followers. We use our social platforms to incessantly promote products to our follower base, and increasing brand awareness for Certified Paleo products.
Newsletters: The Paleo Movement newsletters are geared towards keeping the community informed about new products and Recipes that feature certified products.
PCR: The Paleo Foundation Consensus Report features in-depth assessments from leading experts in the Paleo Movement to offer Official Paleo Status for controversial food items, enabling producers the means to quell arguments about food items which contain them.
Giveaways: To increase the benefits of Paleo Certification, The Paleo Foundation promotes giveaways that generate leads for participants, which any paleo certified company may enter.
FEATURE #3: BUSINESS TO INDUSTRY RELATIONSHIPS

Businesses know that building a network of trusted professionals in an industry can take time. They also know that working with unknown business professionals— from business lawyers, web developers, graphic designers, marketing companies, business consultants, food investors, to even co-packers— requires careful consideration and can sometimes become a costly mistake that can make or break a business.
Resources: With Paleo Certification comes access to a network of vetted industry professionals to help you at every twist and turn of your business. Our network of professionals also offer exlusive "Paleo Foundation Family" discounts for their services, and are people that are used and trusted by many in the paleo food industry, offering you peace of mind that you will be making the right partnerships and business decisions to help you succeed for a lifetime.
PTR: The Paleo Foundation Trends Report serves to inform retailers, wholesalers, and distributors about Paleo Industry trends to help them enhance the growth and sales from their Paleo Category. While this is of great benefit to these organizations, these ongoing relationships allow us to help them identify Paleo Certified products that fit the overall goals of their retail locations.
Industry Newsletter: Although the subscriptions to the PTR are less than 2,000, we are able to disseminate information about Paleo Certified products to retailers, wholesalers, distributors, brokers, grocery buyers, executives, and even food investors across the world in highly sought-after product channels as an added benefit to Paleo Certification with the Paleo Foundation.
Paleo Certified Network: The Paleo Certified Network is an exclusive group dedicated to Paleo Certified companies. It has been designed to foster cross-promotions, and community input to help navigate various business concerns.
FEATURE #4: PRODUCT FEATURES ON PALEOFOUNDATION.COM

The Paleo Foundation website attracts over 65 thousand visitors to the website every month with a total of 1.4 million total visitors. Each Paleo Certification comes with a product feature on the Paleo Foundation website which boosts product relevance and enhances SEO performance for the company websites, as well as giving retailers and community members instant access to interact with and explore certified companies.
WE SEEK TO INNOVATE
Here's a short story to give you some insight into how serious The Paleo Foundation is about innovation. In college, our founder was given an assignment by her Harvard Business mentorship professor to complete but she refused. What was the assignment? Study other certification organizations.
Why did she refuse? As she put it, "Why would I study something I have no interest in emulating? If I'm going to do it— and I am— it's going to be something else altogether. " Of course, she got an 'F', but it was the proudest failed assignment she ever had.
The focus on innovation, and driving value for Paleo Certification is what ultimately sets the Paleo Foundation apart. Here's what's in store for the 2017 calendar year:
Coming in 2017: INDUSTRY EVENTS
The Paleo Foundation is making plans to host public webinars with professionals in a myriad of industries for the purpose of improving sales, marketing strategies, and business enhancement. Discounts to services will be exclusively for Paleo Certified companies in the Paleo Foundation family.
Coming in 2017: INDUSTRY REPORTS
The Paleo Foundation Trends Report (PTR) is a publication designed to provide information regarding Paleo Industry trends, polling results, and community perceptions to retailers and product companies alike.
Coming in 2017: YET ANOTHER CERTIFICATION PROGRAM
Industry Trendwatch Reports suggest that this certification may increase sales up to 49%, and will be an important addition to Paleo Products in the future.
Coming in 2017: ROBUST PRODUCT PORTAL
The Product Information platform will do far more than just showcase products. It will showcase articles, recipes, product location, and provide "hidden information" to bloggers industry professionals, as well as enabling product filtering for retailers and end-consumers, alike.
Coming in 2017: PALEO FOUNDATION MEMBERSHIPS
The Paleo Foundation website will include memberships that will serve a myriad of purposes. Bloggers will be able to gain access to companies who offer affiliate programs, Retailers, Wholesalers, Brokers and other Industry Professionals will have access to purchasing information on demand for certified products, and Paleo Certified companies will be able to have full access to trend reports, resources, events, discounts, and more.