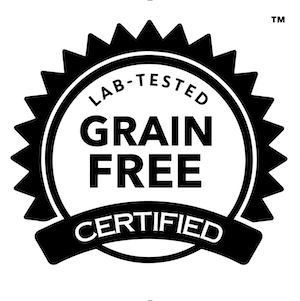 Is Grain Free the new Gluten Free?  Trend reports and industry analysis have confirmed: YES!  Here are the Grain Free Certification steps to take to assure your grain-free consumers that you are meeting their demands for grain-free products.
STEP 1: APPLICATION
Your application is the first active step towards Grain Free Certification. The Paleo Foundation Team will maintain your company information in the strictest confidence.
STEP 2: PRELIMINARY AUDIT
Upon receipt of your application, our team will make a preliminary audit of your products being submitted for certification.  If the products pass the preliminary audit, we will proceed with both Round 1 and Round 2 audits.
STEP 3: FIRST ROUND AUDIT
The Paleo Foundation will request ingredient statements from the suppliers to ensure that the product complies with grain-free requirements as outlined in the allowed ingredients portion of the standards for the Grain Free Certified ™ Program.  This process takes an average of 6-8 weeks and may be expedited upon request for an additional fee.
STEP 4: SECOND ROUND AUDIT
During Round 2 audits, your products will be lab-tested for gluten and gliadin competitives to ensure a gluten and Grain Free product.  This process takes an average of 4-6 weeks and will depend on the time requirements involved in both shipping and handling samples to the laboratory, and by the laboratory to test individual products.
STEP 5: AGREEMENT
Once your products have been assessed by the Paleo Foundation Team and have successfully met compliance with the Grain-Free Certified ™ Program Standards, an agreement will be drawn up and sent via SignNow.com.  The agreement outlines the approved use of the Grain Free Certified ™ trademarked labels.
STEP 6: CERTIFICATION
Once the agreements have been signed, you will receive Trademarked Logos and a Letter of Approval and Permissions granting you the right to display our trademarked logos on your certified products.
STEP 7: PROMOTION
When you have completed the Grain Free Certification process, your products will be listed on the Paleo Foundation website and updated routinely through the year.
STEP 8: RENEWAL
Your product certification and licensing will need to be renewed each year. A Paleo Foundation administrator will request updated documentation that reflects changes made since your initial evaluation.